---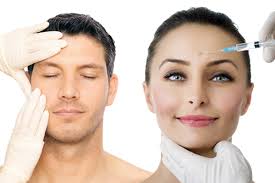 Injectable Treatments
As the years go by, wrinkles and fine lines can become more noticeable. Anti-aging treatments can help rejuvenate your skin tone and features and restore a natural, youthful appearance.  Injectable treatments such as BOTOX®, Dysport® and dermal fillers can help both men and women look and feel their best, without surgery.
Injectable cosmetics are designed to make your skin appear younger and smoother, as well as provide new contours to facial features by plumping up the lips and adding volume to areas of the face.
Toxins
BOTOX®-  An FDA-approved treatment that temporarily improves the appearance of  lines on the forehead, crow's feet around the eyes, and frown lines in the brow area. BOTOX® is injected into the facial muscles to relax for a naturally refreshed look.

Dysport® - Like its counterpart BOTOX®,  Dysport® is also used to temporarily reduce the appearance of fine lines and wrinkles, lift your brow and smooth and tighten your skin. The results are a more youthful, refreshed look while still allowing for facial expressions.
XEOMIN® - A popular neurotoxin similar to BOTOX® and Dysport®,  XEOMIN® is used to soften the appearance of fine lines and wrinkles on the forehead, glabellar lines between the eyes, and crow's feet around the eyes. It is also used for marionette lines near the nose and mouth, and to improve the appearance of lines above the upper lip
Jeuveau ®- Used in the treatment of wrinkles, it's also sometimes called "Newtox" for short because it's a new version of the same active ingredient used in BOTOX®, Dysport®, and XEOMIN®. While Jeuveau® shares similarities with these other toxin's, there are key characteristics that make this injection stand apart from the others. Jeuveau® is a better fit for certain types of facial wrinkles compared to BOTOX® all at a slightly cheaper price.

Fillers
Restylane® -  Decreased levels of collagen, elastin and hyaluronic acid can make your skin look less smooth and plump. Restylane® is a safe and gentle cosmetic dermal filler that works together with your body's own hyaluronic acid to lift and smooth your skin and soften lines and wrinkles.
JUVÉDERM® -  Another dermal filler option, each product in the JUVÉDERM® collection of fillers adds volume to a different area of the face to lift cheeks, smooth parentheses lines, or plump the lips. The results are natural looking and long lasting.

RADIESSE ®- A filler that is made up of calcium beads and a gel matrix for an effect similar to hyaluronic acids. As the skin absorbs the filler, your body's natural collagen is left behind to create the desired volume. This is particularly useful when contouring the jawline or adding volume to the cheeks.

---
Next Steps
For more information or to schedule a consultation to turn the clock back to a younger fresher you, email us at dunkirkaesthetics@gmail.com or call 202-466-7546