---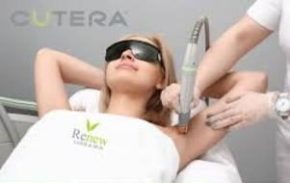 Laser Treatments

In addition to hair removal, most lasers treat only one or two aging conditions such as red or brown spots.  The robust  Cutera xeo® laser provides treatments to address the widest range of today's most common nonsurgical aesthetic concerns including —veins, skin pigmentation such as age spots, freckles, and sun damage, fine lines and wrinkles, hair removal, acne, and skin revitalization.
Cutera Laser Genesis - Cutera's proprietary Laser Genesis procedure is a no-downtime, year-round aesthetic treatment, designed to help polish and perfect superficial skin revitalization concerns.
Cutera LimeLight® - An intense pulsed-light (IPL) laser used for a variety of treatments including benign pigmented lesions, vascular lesions, and photorejuvenation. There is little to no discomfort and quick treatment times of 30 minutes or less.
Cutera Titan® XL - Introduces an infrared light source for sustained, deep volumetric dermal heating and skin tightening. Treatments can be performed on the face, neck, abdomen and extremities.
Cutera ProWave 770™ - Now you can make unwanted facial and body hair a thing of the past - thanks to the Cutera ProWave 770™ hair removal system. No more painful waxing, electrolysis or razors! The ProWave delivers 21st century technology for treatment of this distressing problem. Cleared for permanent hair reduction, the ProWave can treat a wide range of skin types safely and effectively.
2D & 3D Skin Revitalization Therapy - Xeo's Skin Revitalization Therapy is a two or three-staged combination procedure that provides synergistic results in fewer treatment sessions.
• Xeo 2D combines limelight® and laser genesis to diminish brown spots, redness, scars, and other skin imperfections. The procedure is non-invasive and has no downtime.
• Xeo 3D combines the titanXL®, limelight® and laser genesis to efficiently remove common signs of aging, including redness, benign pigmented lesions, and the appearance of fine lines & wrinkles, improving skin texture and improve collagen remodeling for skin tightening.
Schedule your free consultation to see which Laser Treatment is right for you!
Give us a call @ 202-466-7546 or email dunkirkaesthetics@gmail.com