---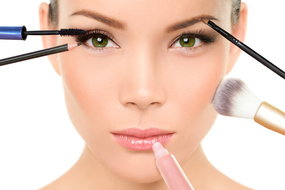 Permanent Makeup
Permanent makeup is a method of applying pigment into the dermal layer of the skin. It is medically proven and specifically designed to be safe. Topical anesthetics are used to make the procedure more comfortable. Various techniques are also used to give you the best outcome for your particular procedure.
Eyeliner - A subtle, natural look can be achieved by implanting color just at the lash line. Additional shadowing of color can be added for a soft natural liner or a bold line. If your looking for a more dramatic effect, the inner rim / mucosal area can be done, too! Ophthalmologists recommend permanent cosmetics for those who are allergic to conventional makeup and for those who wear contact lenses. No more smudged, running eyeliner under your eyes, even after working out, sweating, or swimming!
Eyebrows - You can have a full fill-in, subtle shaded, or eyebrows with a stroke technique to mimic natural hairs. Advance techniques such as Microblading can be done to simulate natural hair strokes. If you draw your brows on daily, don't enjoy outdoor sports like swimming because your afraid of losing a brow, then this is a lifesaver for you! You can wipe your face all you want and never lose a brow!
Lip Liner / Full Lip Color - This procedure can appear to change the size and shape of the lips as well as the color. This procedure helps prevent lipstick from bleeding into the surrounding skin. The colors range from a soft pink for just a hint of color to a more dramatic, sexy full red lip! Clients with little to no color and a very small lip have loved this procedure!
Medical Modalities - With the progression and development of new techniques and natural pigments the ability to provide medical tattooing has evolved. Areola restoration, scar and stretchmark camoflauge, vitiligo repigmentation, hairline enhancement and so much more are now available!
Next Steps
For more information on Permanent Makeup or to schedule a consultation, email us at dunkirkaesthetics@gmail.com or call 202-466-7546